supporting patient wellbeing using Patient Reported Outcome Measures (PROMS)
Covid-19 safe communication has made the remote collection of Patient Reported Outcome Measures (PROMs) – which include quality of life questionnaires and disease-activity scores – even more important in monitoring people living with chronic conditions or in remission. Careful and regular use of PROMs can delay the need for people to attend regular outpatient reviews when their PROMs indicate they are living well. Conversely deterioration in wellbeing can be identified through monitoring of received PROMs, enabling speedy intervention. 
beetroot@
 is specifically designed to enable that channel of communication, and will undoubtedly evolve and extend as both clinicians and patients adjust to new ways of providing and receiving healthcare support following the arrival of Covid-19.
beetroot@ comes in two versions which can be used together, or independently. The clinic/outpatient version can be used in a clinic environment or with remote patients, and is a simple way of prompting for and collecting information from patients. The web-portal version is a more comprehensive app-based approach, providing a greater range of features including two-way communication.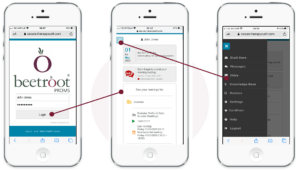 Problem…
People are living with chronic conditions and cancer much longer than they used to due to improved care pathways and medications. However when these people are living in the community it can be difficult for clinicians to keep an eye on them, and identify when they might be deteriorating. Also with the appearance of Covid-19 there are fewer opportunities for face-to-face reviews between clinicians and their patients, increasing the risk of losing touch.
Solution…
Enable patients to report their own outcome measures using a web-portal app which feeds their data into a monitoring system like beetrootDMARD or beetrootONCOLOGY. beetrootPROMS is exactly that kind of app, and can be configured to collect any kind of questionnaire, disease activity score or wellbeing survey. It can also provide a communication channel between patients and their clinicians. Utilising behaviour change techniques that communication can be as supportive and arguably more motivational than a face-to-face review.
This solution can be used with existing (or new) beetrootDMARD and/or beetrootONCOLOGY installations in secondary care, or independently. It doesn't require an interface to GP systems.

This project aimed to create a user-friendly electronic alternative to current PROMS (Patient Reported Outcome Measures) protocols by using beetrootPROMS in conjunction with the Rheumatology department's monitoring software beetrootDMARD. The electronic version of PROMS allows for indirect patient-clinician communication and provides a time-efficient addition for clinicians to oversee patient progress. It will grant patient access to questionnaires at home and in clinic on an electronic device, which allows the results to be automatically transferred onto beetrootDMARD to assist clinicians in treatment plans.
The iPad version of beetrootPROMS was set-up on the beetrootDMARD database in outpatients. Each patient attending the Rheumatology clinic that day was allocated a specific collection of questionnaire(s) depending on their circumstances (e.g. HAQ, BASDAI, BASFI, Pain and Fatigue) and a unique token was generated for each patient. That token was subsequently used to locate the patient's details and display the questionnaire on the iPad.
Context

Results
Clinicians were asked a series of 5 questions at the end of their clinic about their use of PROMS in the clinic. When asked if it was their routine practice to collect outcome measures, four out of six said 'Yes' and two clinicians said 'No'. When asked, no clinicians believed that these outcome measures were unnecessary and the reason for not using PROMS routinely was because of time restraints. This was a factor which five clinicians said was their main drawback in not using current PROMS collection method(s).
Overall, the feedback was positive; the use of iPads was very successful. A surprising number of people over the age of 60 can use a touchscreen, and this age boundary will no doubt increase over the next few years. Most patients found beetrootPROMS more convenient than paper, in particular, patients with hand deformities mentioned that using a stylus on an iPad is much simpler than using a pen to write on paper. Most people who found using an iPad difficult due to a disability would still choose the electronic version over paper.  Time taken to complete a HAQ questionnaire ranged from 2-10 minutes in patients aged 36-86. Compared to paper copies which took more than 10 minutes to complete and manually input into the computer database, this is a much quicker alternative. It allows the clinician to monitor their patient's progress without wasting 10 minutes of consultation time, which will hopefully no longer be a burdened and pressurised task for them but a new technological advancement used where appropriate to improve treatment outcomes for patients.
Setting-up a beetrootPROMS session in beetrootDMARD

Authorising the beetrootPROMS session on an iPad

Starting the session

Finishing the session

Interested? Ask for a demonstration!