beetroot is brought to you by THERAPYAUDIT, who have many years' experience in providing innovative software solutions to over 35 NHS and Public Health clients in England. Our monitoring service has been collecting and analysing data for health professionals for years so we know a thing or two about making patient monitoring in the community work.
Now it's time to extend these solutions to patients, so that they can take steps to improve their own health and management of chronic conditions, using state-of-the-art technology. There are many medical monitoring apps on the market but few, if any, provide a combination of personalised monitoring and coaching with the reassurance of a tried and tested 'backend'. That's where beetroot is different. Not only are we investing heavily in artificial intelligence and psychology-based design to individually personalise our users' experience, but we also provide healthcare professionals with the reassurance that their patients are efficiently monitored.
beetroot Comes In 2 Flavours
beetroot patient provides the help patients need, when and where they want it, to manage their chronic conditions, whether they live with one or more. A connected smartphone app, beetroot patient provides people with visibility of their data, access to a range of educational and coaching materials, and submission of vital signs for clinicians to check on a regular basis. Starting with support for people living with diabetes (in particular pregnant women with gestational diabetes), beetroot patient will cover a broad range of multi-morbidities, all within the same app. Users can nominate family members, carers or other significant people to share in the receipt of messages from beetroot doctor, ensuring support for vulnerable people. And integration with social media provides optional goal setting and sharing of patient experience of their chronic condition.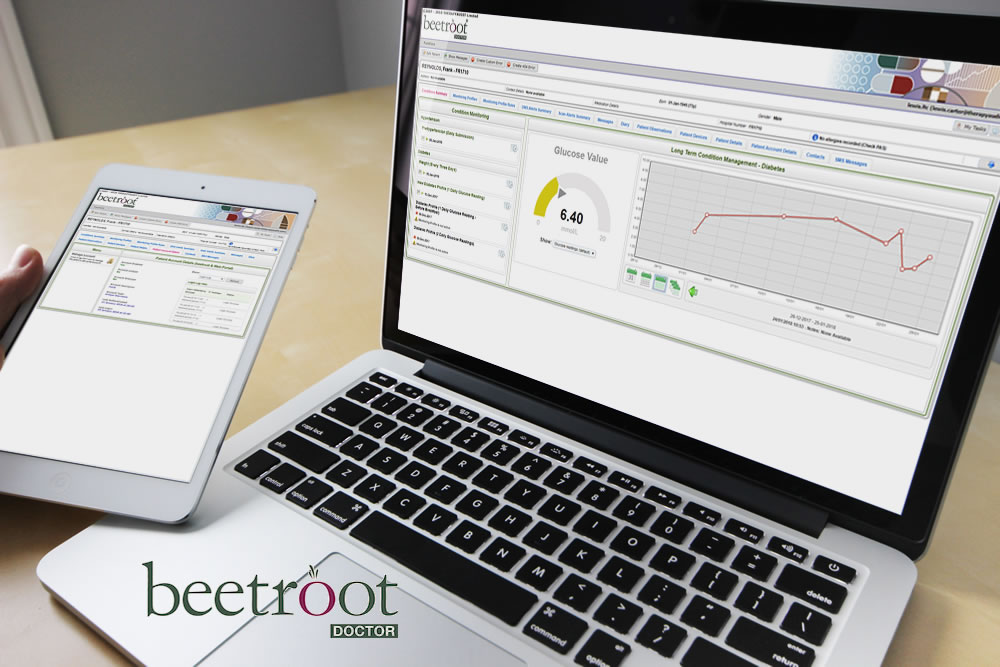 beetroot doctor provides healthcare practitioners with the tools to support patients in their self-management of their chronic conditions, and encourage healthy choices. A cloud-based solution, beetroot doctor provides visibility of collected patient data and a real-time check on vital signs. It enables the delivery of coaching and monitoring follow-up messages, both automatic and ad-hoc, through an intuitive messaging service.
Outstanding items that need dealing with, such as vital signs that are outside the normal range, or patients who haven't submitted data when expected, are clearly flagged in a simple dashboard. beetroot doctor is entirely configurable by healthcare practitioners, ensuring the highest level of personalisation and flexibility.